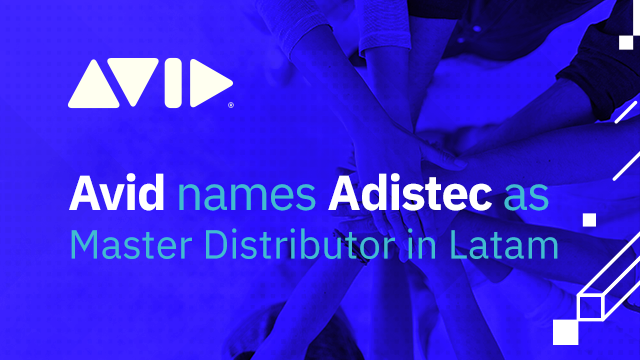 Media technology provider Avid announced the appointment of Adistec as the main and sole distributor of the entire portfolio of Avid audio and video products for the Avid network of resellers in Latin America.

By establishing Adistec as a strategic partner, Avid will leverage its expertise in the territory to accelerate its logistics, finances and other processes in the region to keep the pace with growing demand in the television, film, music and education markets.
Based in Miami, Adistec is a value-added distributor of high-tech products that includes network, security and data center products specializing in technology and business requirements that vary widely from country to country.

Tom Cordiner, Chief Revenue Officer for Avid said:
"Avid and Adistec have entered into an in-depth collaboration through a new distribution relationship that will be extremely important in increasing Avid's operations throughout Latin America and making the marketing, sales and delivery of all our products that much easier and faster for our resellers.
We believe that our agreement will better position Avid for overall growth in the region and that Adistec's additional expertise in driving cloud workflow sales will help accelerate Avid's subscription revenue.
In addition, our ecosystem of existing strategic partners, working directly with Adistec, will continue to bring substantial value to Avid's media and entertainment customers throughout Latin America. "
For his part, Fabian Sperman, President of Adistec said:
"By combining the commercial and technological capabilities of Adistec with the fundamental knowledge of Avid, we will improve, throughout Latin America the reach and performance of the most recognized media technology brand in the world.
Adistec is proud to build our entertainment and media practice around Avid, as our cornerstone. We look forward to contributing to the success of Avid and its resellers in their core markets, while helping them expand into new professional video and audio markets. "
Source: https://www.prensario.net/32458-Avid-nombra-a-Adistec-como-master-distributor-en-LatAm.note.aspx