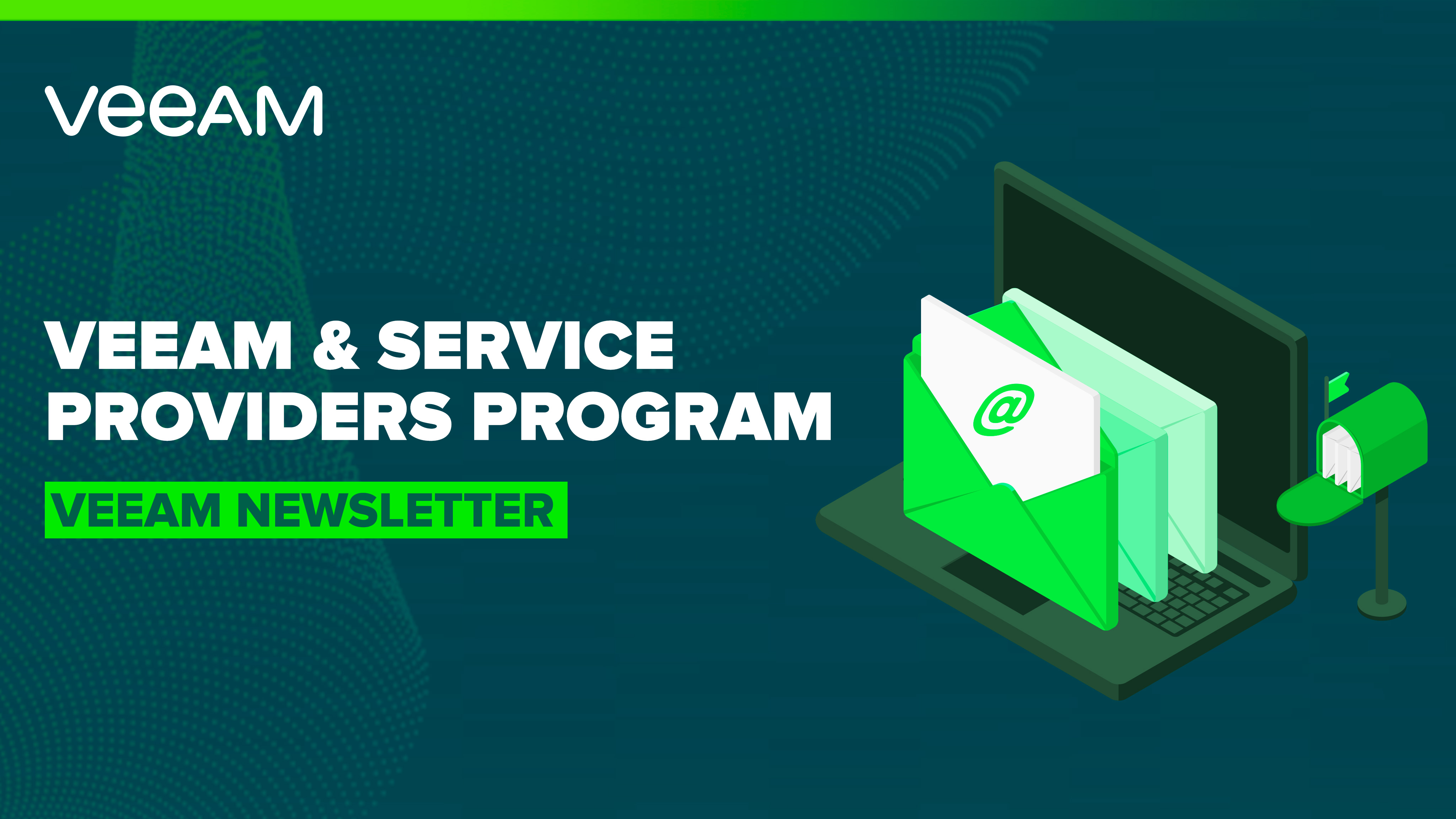 We're moving forward with optimism as we get closer to closing the first half of the year, and things are starting to come into focus across the globe, especially here in North America. There are a few things that are coming up which we expect will impact our partnership in a positive manner.
Veeam Backup for Microsoft Office 365: Your voices have been heard! This much requested Office 365 feature integration within the Veeam Service Provider Console is planned for H2.
VMCE: There are several options available for our partners to receive significant discounts toward certifying their technical staff on Veeam solutions.
VCSP Onboarding: To those who are new to Veeam or to our ProPartner portal, take some time to explore the new resources to get yourself familiar with Veeam, our partnership program and the tools available for your business.
FEATURED
VeeamON 2021: Top 5 on-demand sessions
Did you miss VeeamON 2021? Well, good news! You can still access the experience on demand. Be sure to check out the exclusive partner-only sessions and content on the ProPartner portal, and take a look at the top 5 sessions that senior technologist Anthony Spiteri recommends in this blog post.
VMCE training course voucher for VeeamON2021 attendees
Looking to accelerate your professional trajectory and become an IT hero? VeeamON 2021 attendees get exclusive access to a heavily discounted training course voucher for Veeam® Availability Suite™ v11: Configuration and Management (VMCE)! Vouchers are available until June 30 or while supplies last (limited quantities available).
PRODUCT AND SOLUTION UPDATES
UPDATED SaaS Data Protection Partner Success Kit
Check out the latest update to the Veeam Cloud & Service Provider (VCSP) Software as a Service (SaaS) Data Protection Partner Success Kit! Updated resources include:

Technical quick-start guide
Demo video
Customer scenario card
And more!
The SaaS Data Protection Partner Success Kit is a great resource to help successfully build and grow your Veeam-powered SaaS data protection offering!
[Blog post] Veeam Service Provider Console
In his recent blog post, senior technologist Anthony Spiteri explains how service providers can accelerate new revenue streams by leveraging built-in plug-ins within Veeam Service Provider Console to extend the data protection of customer workloads that reside in AWS and Azure.
NEW to the VCSP program or looking to get started with building a Veeam powered BaaS and Disaster Recovery as a Service (DRaaS) solution? Visit our
Welcome Hub
on the ProPartner portal.
The Welcome Hub will help you navigate the resources that are important for our VCSP partners including: The ProPartner Portal, pricing and licensing and getting started with our purpose-built tools for service providers. Once you become familiar with the Veeam resources and tools, don't forget to head over to our
Partner Success Center
for everything you need from technical and sales enablement to marketing resources!
MARKETING MATERIALS
NEW Veeam Marketing Center content
Be sure to check out the new Veeam Marketing Center campaigns available to VCSP partners at the Silver level or above. The campaigns include co-brandable emails, banner ads, social media posts, infographics and other sales and marketing assets.
* Veeam Marketing Center access is limited to Silver partners and above. Registered partners, be sure to check out our
VCSP Marketing Resources
page on the ProPartner portal, where we've shared handy co-brandable templates to help get you started.
* If you would like training or support in executing these campaigns, schedule a meeting with your NA dedicated marketing support, Erin Burriss
NEW Marketing Success Center
Ramp up your partnership with Veeam through customized steps that are built specifically for ProPartners in marketing roles. Find all the resources you need to accelerate your Veeam business in one place!