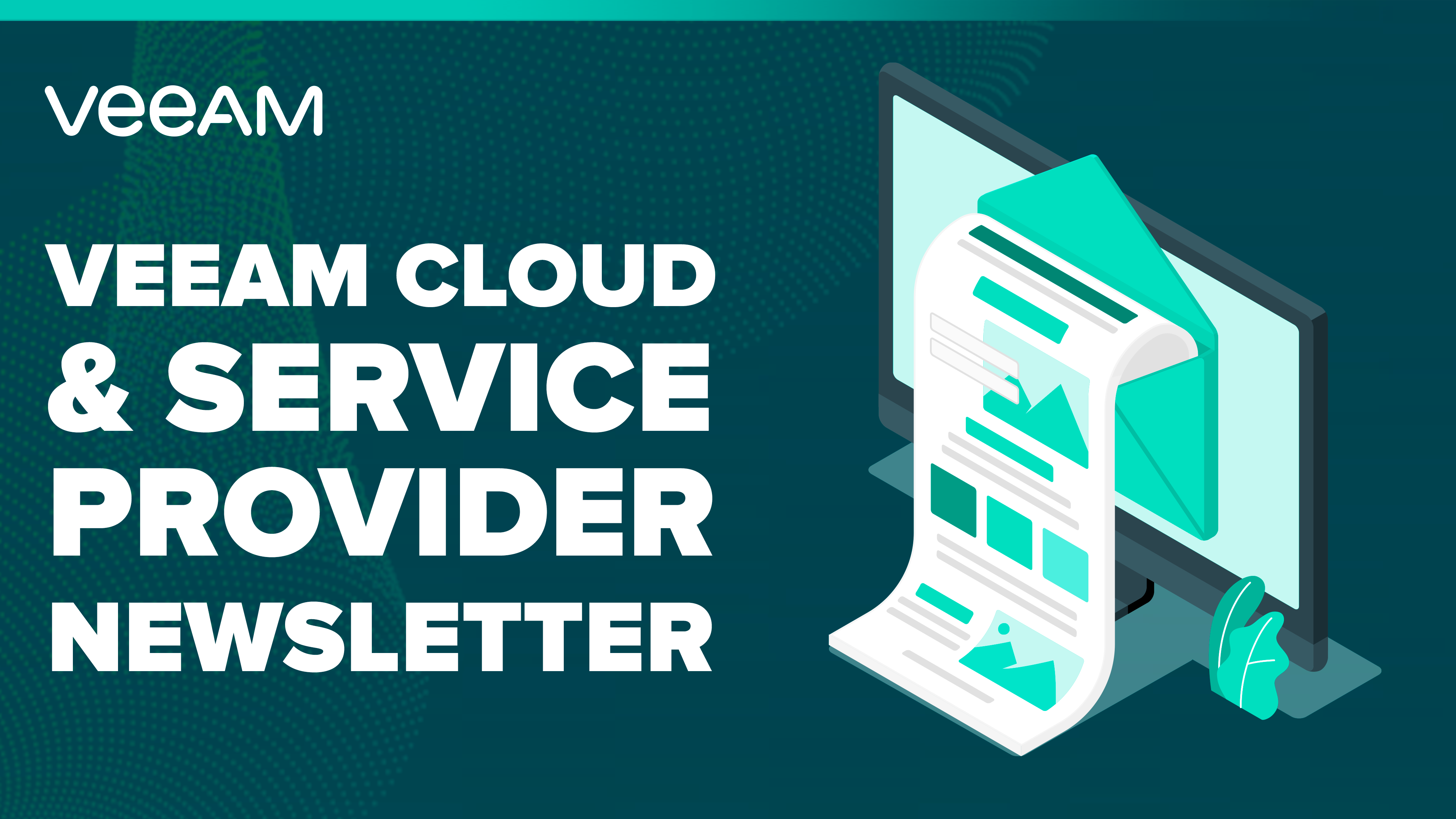 VeeamON Update: Oct. 13, 12-4 p.m. ET
Join us for free at VeeamON Update on Wednesday, Oct. 13. This short, fast moving format will include a general session with updates on our latest product releases, use cases and demos from 12–2 p.m. and partner exclusive sessions from 12:50-2:20 p.m. ET including:
Generating demand and building BaaS and DRaaS pipeline

Tips and tricks to make the most out of Veeam Service Provider Console

BaaS and DRaaS market opportunity presented by Jason Buffington and Dave Russell

MSPs and CSPs partnering to win and how Veeam® can help

And more!
2021 Cloud Protection Trends Report
In recent years, Digital Transformation has accelerated as more businesses decide to quickly adopt advanced technologies. Cloud adoption, while a necessary element of that transformation, is not without its challenges and considerations.
Download the NEW 2021 Cloud Protection Trends Report to learn the latest trends in cloud adoption, such as:
Hybrid is not new!

Four out of five respondents leverage the cloud

Twice as many organizations use a third-party backup for Office 365 compared to a year ago
NEW Veeam product releases coming soon! Get enabled today!
A handful of NEW Veeam product releases is just around the corner and we want you to be fully prepared prior to launch. The ProPartner Launch Resource Center has been updated to include enablement resources for:
Veeam Backup & Replication™ v11a

Veeam ONE™ v11a

Veeam Service Provider Console v6

Cloud-native solutions for AWS, Azure and Google Cloud Platform

And more
To learn more about these upcoming releases, please visit the ProPartner Launch Resource Center for an on-demand partner briefing, training modules, product overviews, FAQ's and much more!
UPDATED Public Cloud Data Protection Partner Success Kit
Be sure to check out the NEW VCSP Public Cloud Data Protection Partner Success Kit! Extend your reach to protect customer's public cloud workloads and generate new revenue streams. Resources include:
The Public Cloud Data Protection Partner Success kit is a great resource to successfully build and grow your Veeam-powered BaaS offering!
ACCESS PUBLIC CLOUD PARTNER SUCCESS KIT
Monitoring and management tools for Service Providers
Help customers address their data challenges with a comprehensive data protection strategy to ensure optimal performance. Download this white paper to learn how service providers can proactively monitor and manage multiple tenants at scale, including forecasting capacity requirements, with Veeam ONE and Veeam Service Provider Console.
BaaS & DRaaS customer one pager
Customers have the power of choice with Veeam-powered BaaS and DRaaS. This PDF outlines why customers are choosing BaaS and DRaaS solutions to protect their data and how partnering with a Veeam Cloud & Service Provider (VCSP) can help achieve their business goals.
EVENTS:
VCSP Enablement Series
October 21, 1 p.m. ET
New to the VCSP program? Want to become familiar with our updated programs and products? This VCSP partner enablement webinar covers educational content that will help you:
Understand the requirements of our VCSP program

Learn the steps to enablement

See all the sales and marketing resources available to you

And more!