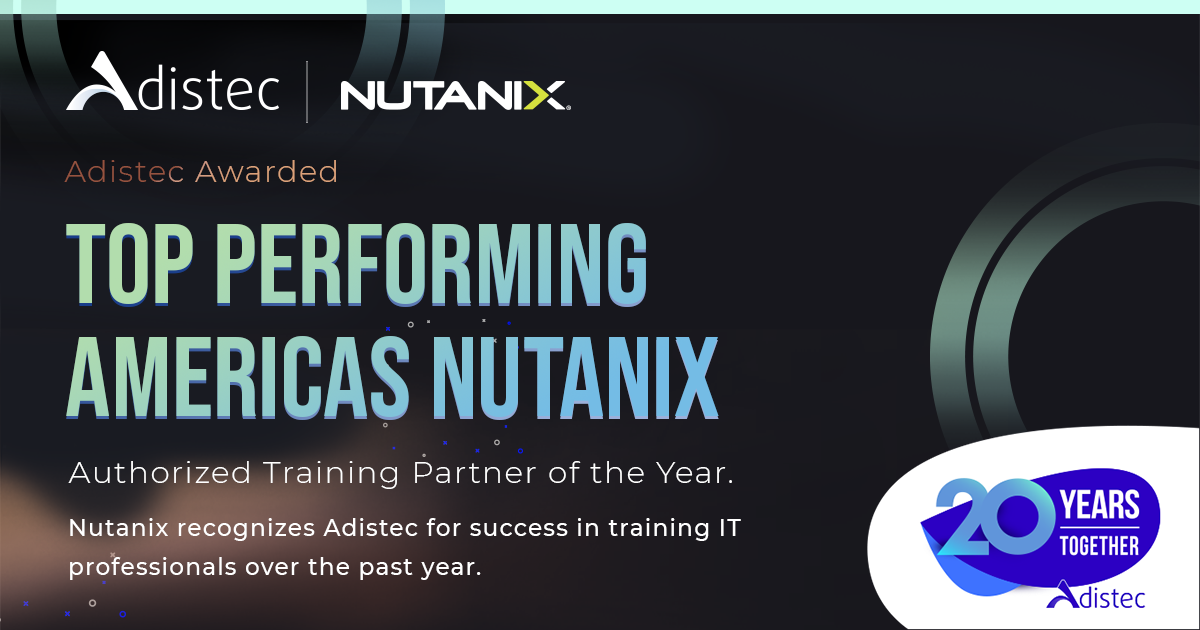 Miami, USA — November 11, 2022— Adistec announced today that it has been awarded the Top Performing Americas Authorized Training Partner (ATP) of the Year by Nutanix for the fiscal year 2022. Adistec was recognized for their leadership and performance in delivering quality Nutanix training to customers and partners around the globe. "Adistec and Nutanix have maintained a partnership relationship for more than 14 years. The combination of training options, our Multi-vendor offer and the greater flexibility enhanced by the Online Led modality as well as the quality of our instructors maximize the value of the training" said Martin Perez, Director of the Education Business Unit of Adistec. "We congratulate Adistec for their ongoing commitment to the industry, and thank them for their continued partnership in delivering the Nutanix curriculum and enhancing the skills and abilities of cloud professionals everywhere," said Vijeev Verma, Sr. Director of Customer Experience at Nutanix.
"Adistec and Nutanix work closely to provide access to executive leadership, subject matter experts, product priorities, enablement, resources and tools that can help grow our partners and customer business. The entire Adistec Education team has played a crucial role in this achievement, showing great commitment and enthusiasm helping to build and expand our business with Nutanix in the region. Our presence throughout Americas positions Adistec as an ideal partner to work on regional and scalable plans. We are happy to have been officially named the Top Performing Americas Authorized Training Partner (ATP) of the Year by Nutanix for the fiscal year 2022" said Carlos Aular, Alliances & Vendor Management Director.
About Adistec
Adistec has become a leader in value-added distribution for Latin America and the Caribbean. Established in 2002, our organization delivers 100% IT solutions through channels. We are a team of professionals specialized in Datacenter and Security bringing a portfolio of leading brands in each of these areas to our business partners. We strengthen our partners' business through five business units: Distribution, Education, Professional Services, Cloud Solutions and Adistec Integrated Solutions.
For press inquiries and more information contact: Romina Bonaudi, Tel: (+52) 55 6297 3775, rbonaudi@adistec.com