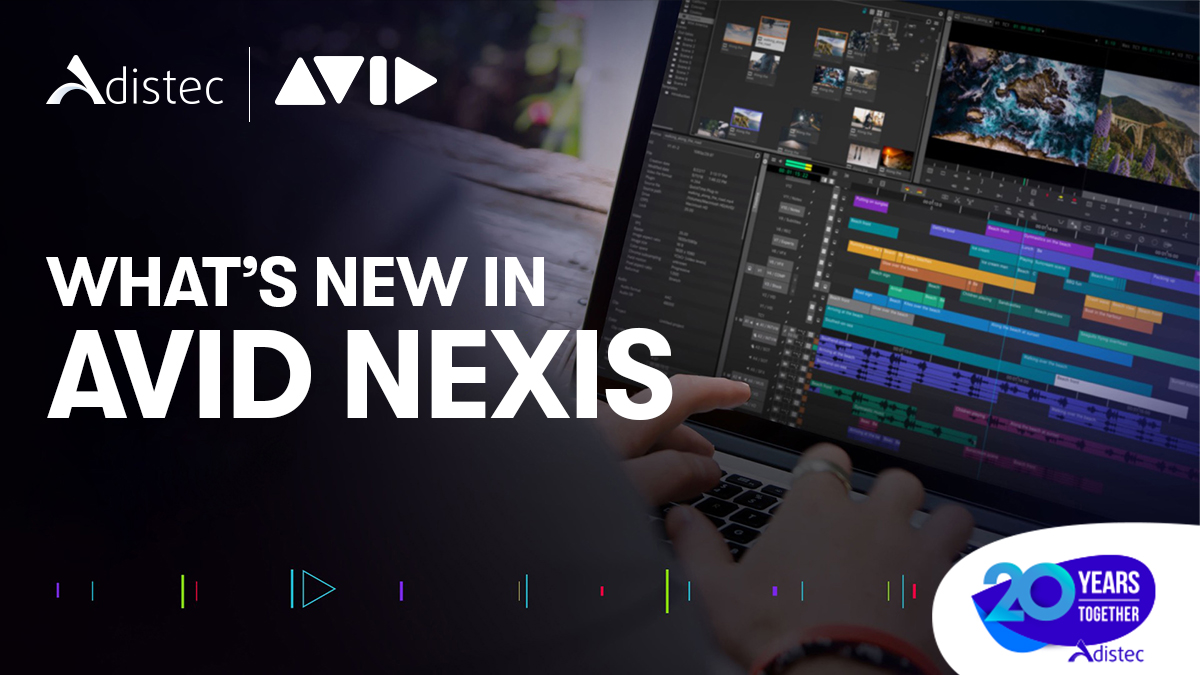 Introducing the virtual file system and F-series storage engines
Avid NEXIS shared storage solutions are evolving to keep pace as the media and entertainment industry faces record consumer demand for high-quality content and technology continues to advance. Now more than ever, media producers need high-performance, collaborative media storage solutions that can adapt and grow as their business needs change. That's why we're introducing exciting innovations to the proven and trusted shared storage solution thousands of media producers around the world rely on daily.
Now with more teams working remotely, support for distributed yet collaborative media workflows is crucial. The new Avid NEXIS F-series storage engine family and Avid NEXIS | VFS virtual file system provide the performance, security, and flexibility media production teams need to boost collaboration and productivity. The Avid NEXIS F-series systems enable teams of all sizes to work from any location by delivering secure, remote access to media and metadata across online, nearline, cloud, and archive storage. Avid NEXIS | VFS enables you to deploy Avid NEXIS storage on-premises, in the cloud, or as a SaaS solution, simplifying your ability to adapt, expand, and grow your business in today's rapidly changing media production landscape.
While Avid NEXIS is the foundation of thousands of media production workflows globally—from small post-production teams to the largest global broadcasters—many creatives aren't even aware of it. And that's how it should be. Avid NEXIS lets them focus on creating content by providing the high performance needed for media workflows. Let's take a look at how Avid NEXIS facilitates content creation.
Content creators have immediate access to all their media assets from anywhere. They can browse, find, and share media and projects whether they're in the facility, on location, or at home, enabling easy collaboration and fast turnaround—no matter what video, audio, news, sports, or graphics production tool they use. With their organization's entire content library and archive within easy reach, they can even capitalize on new opportunities for media rediscovery and reuse.
Let's take a look at what's new.
The new Avid NEXIS integrated storage family
An evolution of the Avid NEXIS E-series, the new F-series storage engines deliver more performance, better connectivity options, and enhanced compatibility. Avid NEXIS E-series engines have been in the market for six years and are used daily by thousands of media producers around the world. As technology advances rapidly, storage technology also must keep pace. For example, higher resolutions produce larger media file sizes, requiring more storage space. That's why the F-series engines have a new processor architecture and more network interface options to ensure real-time media delivery in the most demanding production environments.
We've also ensured that if you have one or more E-series engines, you can continue to grow and adapt your production as you need to. Not only can E-series and F-series engines coexist in the same workflow environment, but they can also be combined into a single extended virtual pool of storage. If you have an Avid NEXIS | PRO, the new Avid NEXIS | PRO+ is compatible; combine up to four systems together, which provide up to 160 TB of storage and 2,800 Mb/s of total bandwidth.
Meet the new Avid NEXIS storage engine family and options
Avid NEXIS | F2—For small- to mid-size organizations, this 10/25GbE HDD engine provides up to 480 MB/s of bandwidth and 60–140 TB of storage per engine
Avid NEXIS | F2X—This new expansion unit for F2 provides an additional 60, 100, or 140 TB of storage capacity, plus up to two hot spare drives; the bundle of F2 and F2X can be used to expand existing E4 engines, including mirror configurations
Avid NEXIS | F5—For large-scale production, this high-density 25/50GbE HDD engine offers the greatest scalability, up to 3.8 GB/s of total bandwidth, and 240 TB–1.12 PB of storage per engine
Avid NEXIS | F5 NL—For nearline and archive, this ultra-high-density 10GbE HDD engine offers integrated media management, proxy archive, and 640 TB–1.28 PB of redundant storage per engine
Avid NEXIS | SDA+—For large-scale deployments, high availability, media mirror protection, and/or systems containing F5/E5 or F5/E5 NL engines, this System Director Appliance enables system-wide support for up to 64 Media Packs (over 10 PB of total storage capacity), 330 active clients, and 160 million files
Media Packs—Add storage capacity to F-series engines with a 60, 100, or 140 TB Media Pack (10 HDD drives) for F2, F2X, and F5 engines, or add a 160 TB Media Pack (10 HDD drives) for F5 NL
Avid NEXIS | PRO+ —For smaller teams of 2–30, this 10GbE HDD engine provides up to 700 MB/s of bandwidth and 40 TB of storage per engine, or up to 2.4 GB/s of bandwidth and 160 TB of storage with four connected engines, and supports 5 million files
* All F-series storage engines are compatible with E-series engines, enabling them to be used together in the same system. Please note that while Avid NEXIS | PRO+ can be connected to older PRO engines, it cannot be connected to F- or E-series engines or the SDA.
The new Avid NEXIS | VFS virtual file system
The power of Avid NEXIS lies within its file system, which is designed to provide extreme reliability, flexibility, and optimization for media workflows. As the control center of Avid NEXIS, the resourceful Avid NEXIS | VFS file system virtualizes hardware and/or cloud storage into a single pool of shared resources, providing automation intelligence to meet constantly changing workloads. From dynamically reallocating storage capacity and optimizing bandwidth to delivering protection with automatic drive rebuild, it provides the agile environment and reliability required for 24x7 operation.
While the Avid NEXIS | VFS software tightly integrates with on-premises Avid NEXIS storage engines, it's also very flexible and scalable. This adaptability is key when business needs change. The VFS software can adapt to support system expansion, such as adding more Media Packs, engines, or storage tiers—or even changing media protection levels—providing optimal flexibility. Avid NEXIS | VFS is also portable, enabling migration to cloud-based production workflows.
New Avid NEXIS | FLEX subscriptions
Avid NEXIS | FLEX subscriptions introduce more flexibility and choice for media storage with a lower cost of entry for on-premises, cloud, hybrid, and SaaS solutions. With a variety of options now available, you can determine the best deployment strategy for today while planning for growth in the future. Aging storage drives can be replaced with powerful new Avid NEXIS F-series storage engines. Subscription options gives businesses agility by providing quick scalability for growth, new projects, and adding remote teams. Avid NEXIS | FLEX also enables content creators to transition media production to the cloud more easily and cost-effectively, at their own pace, while also maintaining access to all their media assets.
To sum it up, all these new enhancements advance the unmatched collaborative performance Avid NEXIS is known for. It enables hundreds of users to connect and access media simultaneously with Avid-patented technology that ensures real-time media delivery to keep production running smoothly. Content creators can ingest, edit, and playout content to and from Avid NEXIS without dropping a single frame—even when working with high-res media in the most demanding broadcast and post-production environments. It speeds up productivity while providing the utmost reliability for content creation teams. Integrated with the next-generation Avid NEXIS F-series storage engines, or as a cloud or hybrid deployment, Avid NEXIS enables teams of all sizes to work from anywhere, delivering secure access to media and metadata across all tiers of storage.
Contact us: avid_info@adistec.com