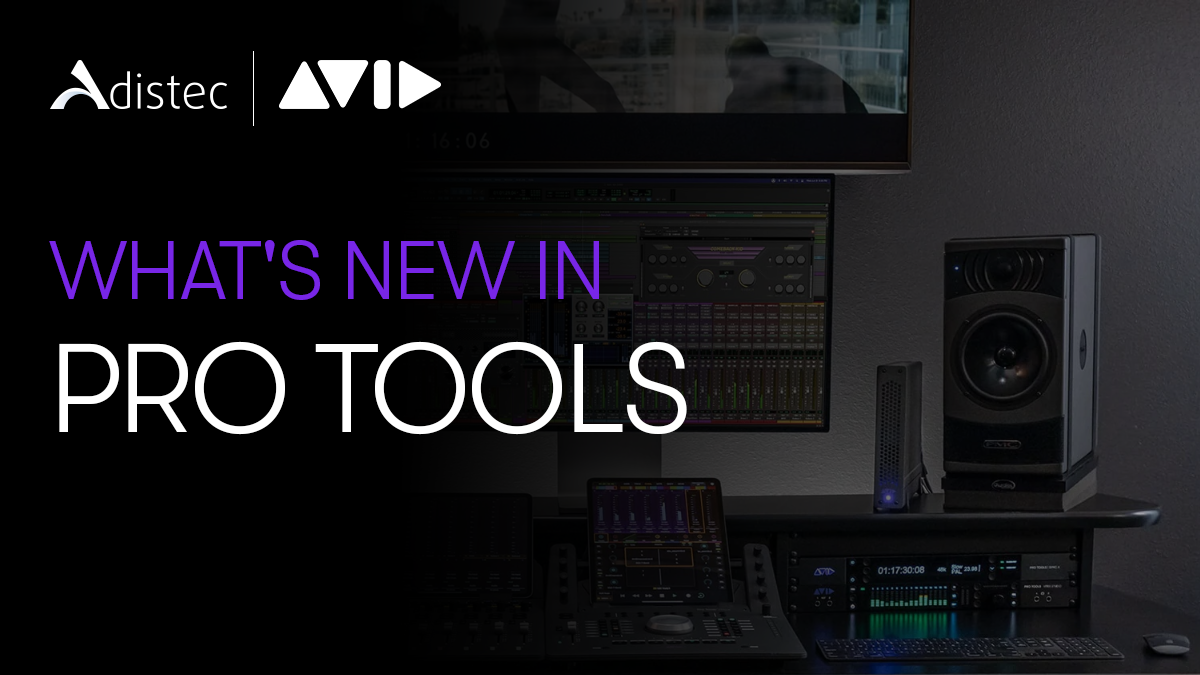 Pro Tools is always getting better with new features and included gifts from our partners. And with an active plan, you get them as soon as we release them. Take a look below to see what's new.
PRO TOOLS 2022.9 (SEPTEMBER 2022)
This release introduces a new, free Pro Tools offering—Pro Tools Intro, plus ARA 2 Melodyne support, Aux I/O software and hardware routing, MIDI Quantize Toolbar controls, and more. Additionally, SoundFlow Cloud Avid Edition is now also included with all Pro Tools Studio annual subscriptions, as well as with all Pro Tools Studio perpetual licenses with an active support plan.
Pro Tools Intro
Pro Tools Intro is a new, free version of Pro Tools that is ideal for those new to producing music with a DAW, providing all the essential audio and MIDI tools needed to create music and includes 36 core effects and instrument plugins. Pro Tools Intro also becomes the default rollback for any subscription customer who does not renew their license.
ARA 2 Melodyne Integration
With new ARA 2 (Audio Random Access) integration, you can now work with Celemony Melodyne directly within the Pro Tools Edit window. Alter pitch, vibrato, volume, sibilants, note length, timing, and more without having to send audio out to the plugin and back into Pro Tools, enabling you to experiment and perfect vocal and instrument parts significantly faster and easier.
Learn more about ARA 2 Melodyne
Aux I/O
Expand your routing capabilities with Aux I/O, enabling you to send audio to and from Pro Tools and other apps. Collaborate and review mixes easily by playing Pro Tools audio over Zoom or other conferencing service. Route channels to and from the Dolby Atmos Renderer while simultaneously using Pro Tools | HDX processing. Even record and monitor audio in Pro Tools from other apps.
In addition, Pro Tools 2022.9 also delivers numerous other features and enhancements, including:
Quantize Toolbar controls in Edit and MIDI Editor windows
Timecode Overlay X/Y settings for fine-tuning the Timecode Overlay position in the Video window
Increased marker count from 999 to 32,000
And more
Explore all that's in Pro Tools 2022.9
PRO TOOLS INNER CIRCLE EXPANSION
Got a Pro Tools Studio or Pro Tools Ultimate perpetual license with an active Software Updates + Support Plan? You're now part of the Pro Tools Inner Circle, giving you access to over $2,000 worth of additional plugins, sounds, and more—for free! Visit your Avid Account to claim all your rewards now. Don't have an active plan? Get one now to get current and enjoy all the latest features you've missed since the last time you updated your Pro Tools.
https://www.avid.com/es/resource-center/whats-new-in-pro-tools